Web Safety Workshop For PR Students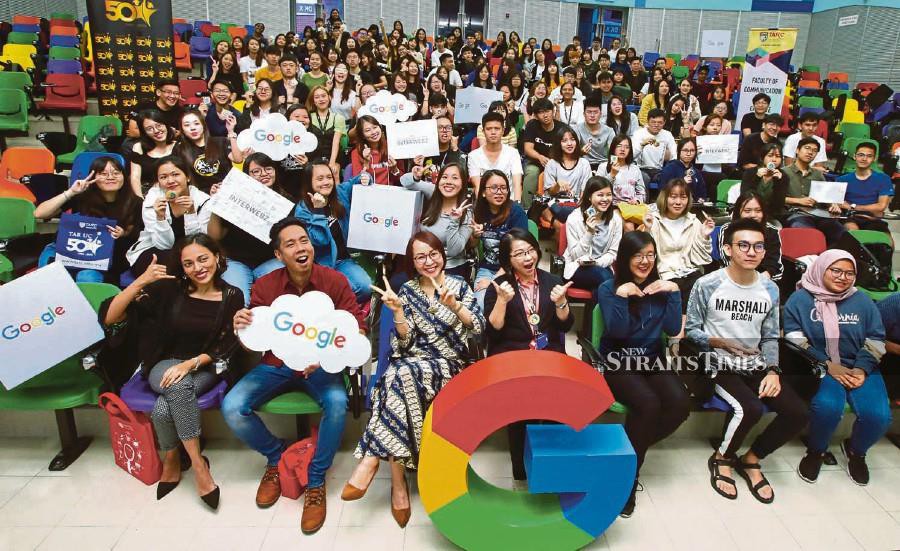 ALTHOUGH it is undeniably one of the greatest creation of mankind, the Internet can also bring about negative effects due to its security risks.

Aiming to help students and youths boost their digital literacy and be more aware about online safety, Google Malaysia recently held the Google Cafe: Guardians of the Interwebz workshop at Tunku Abdul Rahman University College (TAR UC) in Kuala Lumpur.

The workshop highlighted Internet safety tips based on five themes, namely security, privacy, family, safety and misinformation to 150 second-year Bachelor of Public Relations (PR) students.

Students were given security tips and learnt how to evaluate online news to prevent the spread of fake news.

They learnt to be more privacy-savvy by going through data control settings and were cautioned not to overshare personal information online.

Student Nina Nirmala, 24, who is interested in corporate branding, said: "I now feel very informed as lately, there have been many news about scams and cybercrimes.

"As a member of the younger generation, I think this is the perfect opportunity for us to be educated on these issues and spread awareness about online security."

Michelle Lim Ke Wei, 22, said this workshop had benefited her as an Internet user as well as a future PR practitioner.

"Previously, I didn't pay much attention to privacy issues when I surfed the Internet. Now that I have learned about the safety and privacy functions, I will be more attentive in protecting my online safety.

"In the PR field, it is important for us to protect the image of our company and to not convey the wrong message. I find the tips, such as checking for reliable sources and not to overshare personal information, really helpful."

Google helped launch the Guardians of the Interwebz to ensure that TAR UC students put their newfound knowledge into practice.

As part of their semester coursework, they will share important online safety tips to friends and families while using online tools and media channels.

The students will develop the campaign as they learn to effectively research, plan, create content and manage online engagements.

TAR UC Faculty of Communication and Creative Industries programme leader Lim Siz Siz said: "Students nowadays are at the forefront of technology and they are poised to be pioneers of future innovations.

"At the same time, without a strong foundation in how to use it safely, they will be vulnerable to many online threats. This is why this programme is important.

"Through the campaign, students can become advocates of Internet safety. They will conduct research and create online content, and share them with their friends and family."

For student Brian Desmond Geikie, 21, he aimed to make his group the winner for the Guardians of the Interwebz campaign.

"Knowing that the champion will be given a tour of the Google Malaysia headquarters, it motivated me to work harder in this campaign. I want to know more from the company, especially after I learnt about the security measures that Google provides for its consumers."

Google Malaysia communications and public affairs head Zeffri Yusof said the company had successfully organised a similar campaign last year called Cool Tools 4 Skool, where students share online tips and tools to enhance their lives.